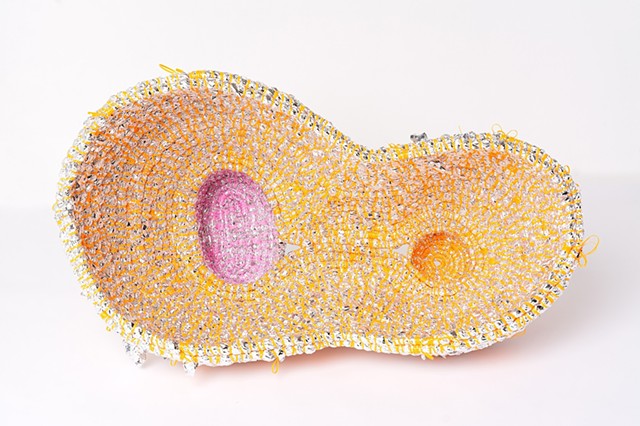 José Santiago Pérez is a Salvadoran-American artist and educator from Los Angeles currently based in Chicago. He weaves plastics into markers of time, materials of intimacy, and spaces of belonging.
He is a 2019-2020 HATCH artist at the Chicago Artists Coalition and a recipient of their SPARK grant. His solo exhibition Palacios (fantasy structures) at Roman Susan was reviewed in Artforum. Solo exhibitions of his craft based sculptures and wall hangings have been presented at Ignition Project Space and Wedge Projects. Two-person exhibitions include Repository and Repertoire with Jazmine Harris at Chicago Artists Coalition and curated by Stephanie Koch, with reviews by Lori Waxman and Annette LePique, and supported by a grant from the Illinois Arts Council Agency; and Extra::Ordinary with Noelle Garcia at Evanston Art Center. José has participated in group shows in San Francisco, Chicago, Philadelphia, and Boston. His work has been featured in Basketry+ Magazine, Sixty, OtherPeoplesPixels, Archives + Futures Podcast, Newcity, and Art Intercepts.
José holds an MFA from the School of the Art Institute of Chicago where he teaches in the Fiber and Material Studies department.