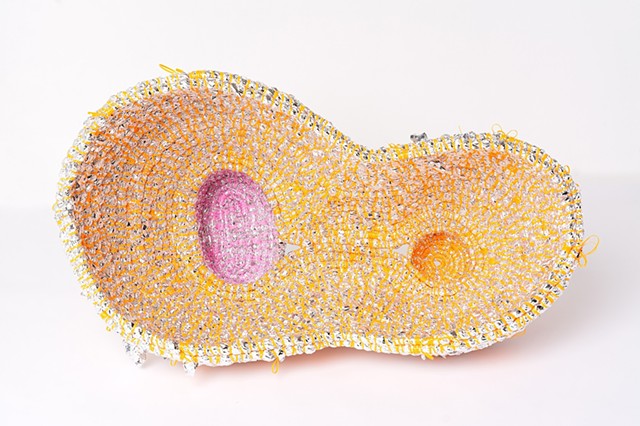 José Santiago Pérez is an artist and educator based in Chicago who weaves plastics into containers of time, vessels of memory, portals for speculation, and spaces of belonging.
José is a 2024 Fiber Fellow at Colorado College, a 2022 Resident Fellow at the Lunder Institute for American Art, and a 2019-2020 HATCH resident at Chicago Artists Coalition. His work has been supported by an Illinois Arts Council Agency grant, a DCASE Individual Artist Program grant from the City of Chicago, and a Chicago Artists Coalition SPARK grant. Recent solo exhibitions include Shimmerings of the Not Yet (T)Here at the Urban Institute for Contemporary Art in Grand Rapids and Portalisms at Boundary in Chicago. José has presented craft and performance based work in group exhibitions in Los Angeles, San Francisco, Chicago, Philadelphia, Boston, and Rockland, Maine. Features and reviews of his work have appeared in Artforum International, Basketry+ Magazine, Sixty Inches from Center, Newcity Art, and the Archives + Futures Podcast.
He holds an MFA from the School of the Art Institute of Chicago where he teaches in the Department of Fiber and Material Studies.