Statement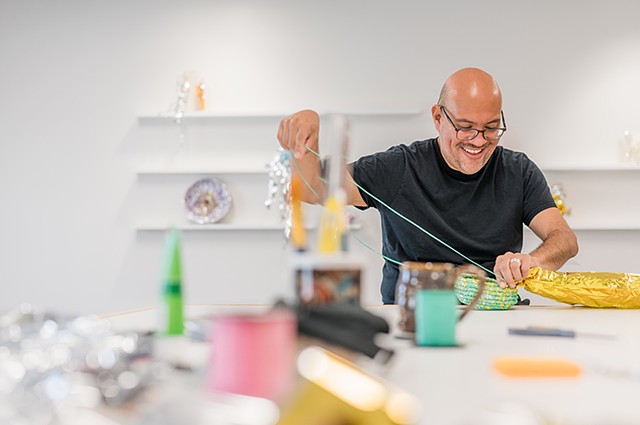 I work in an expanded field of basketry. My practice is driven by the desire to craft a sense of individual and collective belonging in a contemporary context where belonging is not always certain. I seek to discover forms that hold the viewer's attention and imagination; welcoming them in each basket's woven embrace.
Non-functional two- and three-dimensional works are coiled into organic forms that reference ancestral, historical, and personal content. I intuitively approach coiling as a structuring principle that makes interiorities, planes, and textured surfaces possible. Some works are embellished with hand-knotted pile and braided elements that extend conventional basketry techniques.
Series of works are materially connected through the use of plastic sheeting, mylar emergency blankets, and plastic lacing in vibrant colors like pink, mint, and baby blue. I am drawn to the ways these non-traditional weaving materials are embedded in complex relations between culture and nature, while evoking poetic associations.
Plastics operate as markers of time in my work - pointing to the fossilization of prehistoric ocean life, its deep exhumation and extraction, and its slow decomposition that will outlast its consumers.
Mylar is a reflective insulating material used to deliver the expansionist promise of the space age. It also warms the bodies of immigrants the USA seeks to insulate itself from at the southern border. Mylar mirrors these contradictory impulses and plastic is a matter of time. Through coiling, knotting, and braiding, I transform these industrial materials into containers of memory, portals to the past and future, and spaces of connection and contemplation.
The work invites the viewer to reencounter the humble basket and reflect on its value, generous form, and beauty.